What can I use instead of Robinhood? The 7 best Robinhood alternatives
In its 2014 launch, Robinhood made a big splash in the investment world. It became the first brokerage—online or not—to offer commission-free investments of EFTs, stocks, and options. Robinhood gained troves of customers who all wanted easier accessibility to investments at a low cost.
For those looking for Robinhood alternatives, we've put together this comprehensive list of Robinhood competitors capable of taking on your investment needs.
Regardless of which investment platform you choose, it's possible to fund your brokerage account and set up recurring payments with a free Wise account. Withdraw your earnings from brokers to a Wise account and convert them to over 54 currencies. Plus, save up to 6x over traditional banks when you send money abroad.
Get a free Wise account in minutes
What to look for in a Robinhood alternative?
Before examining some Robinhood alternatives, let's look at some key questions you should ask before choosing one.
What is the minimum balance required to open and maintain an account?

What are the fees associated with trading—stocks, ETFs, options, mutual funds, etc.—and are there any other account fees?

Which securities does the platform offer for trading?

Does the brokerage online and mobile app interfaces meet your needs?

What investment research and data becomes available when you open an account?
| 💡 If you're still interested in Robinhood, read our Robinhood review to find out everything you need to know about the trading platform. | |
| --- | --- |
Overview: Who are Robinhood's biggest competitors?
The table below lays out other apps like Robinhood where you can start an investment account. See here a quick glance of what each broker is best for, and what investment options do they offer:
| | Best for | Investment options |
| --- | --- | --- |
| Webull | Intermediate-level investors but still actively involved in stock market and options trading | ETFs, options, stocks, ADRs, IRAs |
| TD Ameritrade | All-around, balanced investors | Options, futures, mutual funds, forex (Currency), bonds, stocks, and ETFs |
| E*TRADE | Options traders | Stocks, ETFs, futures, mutual funds, and bonds |
| Fidelity | Beginners | Stocks, bonds, ETFs, mutual funds, fractional shares, and options |
| Acorns | Long-term investors | IRAs, and pre-set portfolios of ETFs based on risk preferences |
| Stash | Anyone who needs banking and investment accounts | Stocks, ETFs, fractional shares, IRAs, and bonds |
| Interactive Brokers | Advanced traders | Stocks, ETFs, fractional shares, IRAs, bonds, forex, and mutual funds |
| 💡 Keep in mind that with any brokerage app, your capital is at risk, and you could end up losing money. Always do your research and make sure that you know what's the best decision based on your circumstances. | |
| --- | --- |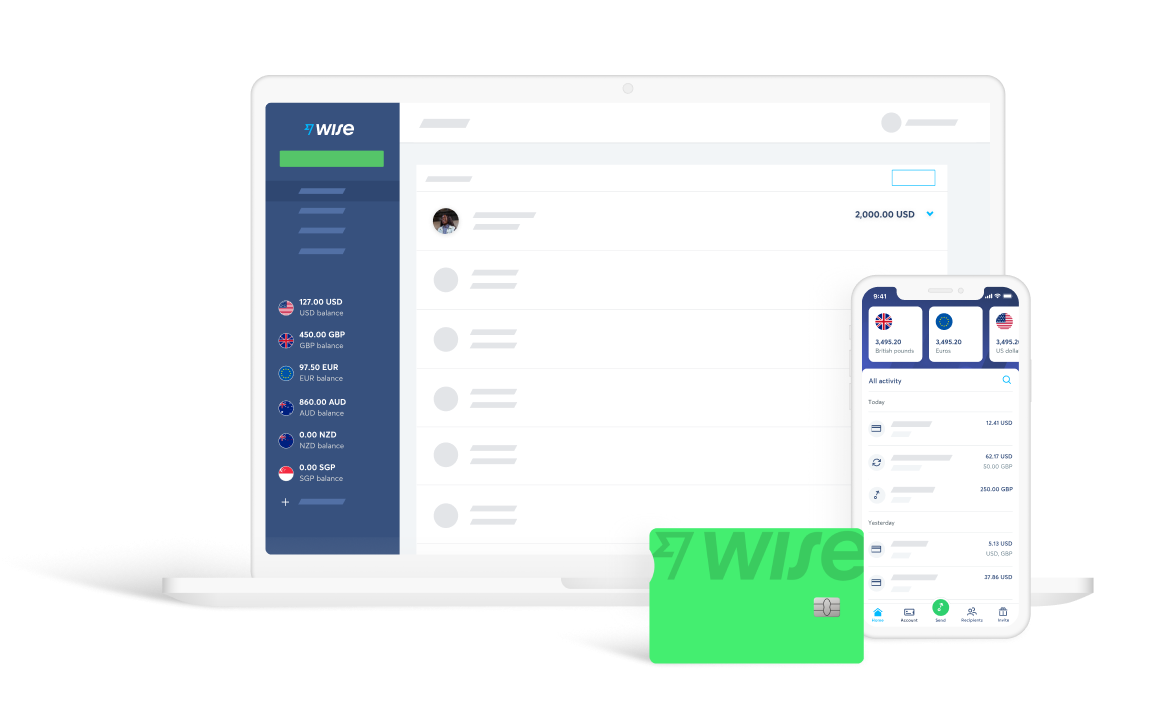 Fund your broker or withdraw your returns with a free Wise account - and save up to 6x
Whether you want to go with Robinhood or another online broker, you'll need to fund your account to invest.
If you're looking for a cost-efficient way to get started, look at Wise.
With a free Wise account, you can set up recurring payments using US Dollars (USD) and fund your investment accounts.
And when you cash out and withdraw money from your brokers, you can hold your funds there and convert them to over 54 currencies.
Plus, whenever you want to send your money abroad, Wise is also the best option as you'll get low, transparent fees and save up to 6x over traditional banks.
Open a free Wise account today
Here are the 7 best Robinhood alternatives
The list below comprises six of the best trading apps similar to Robinhood.
Under each alternative, you'll find summaries and key information that answers the questions posed earlier. We've also included some pros and cons that could help tip the scales when making your decision.
1. Webull
Account minimum: No deposit minimum¹
Stock trading fees: None; only regulatory fees on sales¹
Account fees: No annual or inactivity fees, but there's a $75 transfer fee on outgoing transfers¹
Best for: active investors who have some experience in stock and options trading.
Webull is new to the online application trading scene, and it's actually very similar to Robinhood. Overall, the platform is intuitive and works very well on mobile.
Through Webull, you get fee-free stock and option trading that's hard to beat when looking at cost-per-trade. Ultimately, Webull takes a step ahead as it offers upper-level tools not available on Robinhood.
However, simplicity is a staple for Robinhood fans. If you want to use Webull, know that there's a learning curve while learning how to navigate its tools, charts, and interface. Plus, Robinhood has an IPO access feature not available through Webull.
Deposits and withdrawals from Webull via ACH is fee-free. It's $8 per deposit and $25 per withdrawal on domestic wire transfers and $12.50 per deposit and $45 per withdrawal on international wire transfers.¹
Pros
Cons

No commission fees on stock and options trades
User-friendly, easy-to-use online and mobile interface

Learning curve when learning to use all the available charts and tools
Fees on depositing and withdrawing from account
| 💡 Would like to learn more about Webull? Check out our full Robinhood vs. Webull comparison here. | |
| --- | --- |
2. TD Ameritrade
Account minimum: None, unless you want to trade on margin and other options privileges.²
Stock trading fees: It's commission free as long as you don't use a broker. The broker assisted fee is $25.²
Account fees: None²
Best for: all-around diversified accounts.
If you're a middle-of-the-road investor with a diversified account, then TD Ameritrade might be the right platform for your needs. The beauty of it is that it works for anyone from day-traders to anyone who just wants to save for retirement. Plus, since 2019, the platform is commission free and has no account minimums.
Overall, TD has plenty of available assets to trade like mutual funds, bonds, and currencies. It also has a wide range of research tools for picking the right investments.
Pros
Cons

No account minimum and offers commission free trades
Offers a wider range of assets to trade over Robinhood
Easy-to-use interface with solid variety of charts and tools

Broker-assisted trades have a $25 fee²
| 💡 Would you like to find out more about TD Ameritrade? Check out our full comparison of Robinhood vs. TD Ameritrade here. | |
| --- | --- |
3. E*TRADE
Account minimum: $0³
Stock trading fees: $0 commission fee on stocks³
Account fees: No annual or inactivity fees, but there's a $75 full transfer out fee or a $25 partial transfer³
Best for: Options traders
Overall, E*TRADE has one of the most intuitive and advanced platforms available. The online and mobile apps allow you to trade ETFs, options, mutual funds, and stocks all in the same place. It also gives you some of the best research tools from all the applications on this list.
E*TRADE is perfect for advanced traders and those who just want to save for retirement. It is also possible to upgrade to Power E*TRADE to gain access to futures trading and more complex trading strategies.
Pros
Cons

Some of the best analysis tools available for online brokerages
Free stock trading and overall low trading fees
The mobile app is one of the best investment apps on the market

There might be not too many forex markets available
You have to pay extra for futures trading and advanced strategies
| 💡 Want to know more about E*TRADE? We have a comparison of Robinhood vs. E*TRADE here. | |
| --- | --- |
4. Fidelity
Account minimum: $0⁴
Stock trading fees: $0⁴
Account fees: $0⁴
Best for: Beginners
Being one of the largest brokerage firms in the country benefits in two ways for Fidelity. It's great for established investors with funds to spend, and it's also perfect for beginners. And to bridge this contrast, the firm has developed services that help investors develop as they grow.
That being said, Fidelity is more traditional and may not offer the greatest interface on its platform. But its research tools are outstanding, and you have access to international stocks as well.
Pros
Cons

Awesome research tools with a wide range of providers
Excellent mobile application
Renowned customer service

Broker-assisted fees can be high. They call it a 'Rep-assisted' or 'Representative Assisted' fee⁴
No live data or news streaming on the desktop app
| 💡Know more about Fidelity in our comparison of Robinhood vs. Fidelity here. | |
| --- | --- |
5. Acorns
Account minimum: $0 to open, but $5 requirement to invest⁵
Stock trading fees: You can't buy individual stocks with Acorns—see below.
Account fees: $3 per month on a personal account and $5 per month for a family account⁵
Best for: Long-term investors and those who want help to save money
Acorns is another smartphone-oriented application like Robinhood, but the two apps are like night and day. Acorns markets their product towards individuals who want long-term investments. The platform is one-half savings account and one-half investments with various tiers of service.
The key feature with Acorns is its 'Round-ups' service, which will round up purchases on a linked card—or their card—and invest it into a preset ETF portfolio based on the risk tolerance you set.
Acorns may work well for someone with who wants a long-term 'set it and leave it' approach. But with Acorns, you don't have the same freedom as with other stock apps like Robinhood.
Pros
Cons

Allows people who have issues saving and investing to consistently invest
Cash-back through select retailers

Checking account comes with extra fees
| 💡 Curious about Acorns? Learn more in our comparison of Robinhood vs. Acons here. | |
| --- | --- |
6. Stash
Account minimum: No minimum balance on investment accounts. But there are account fees, and they require at least $5 to invest.⁶
Stock trading fees: No commission fees⁷
Account fees: $1 per month for the Stash Beginner Account; $3 per month for the Stash Growth account; $9 per month for a Stash+ account.⁶
Best for: People who need both a banking and investment account
Unlike some of the other accounts we've listed, Stash isn't free. For instance, the beginner plan is only $1 per month and requires $5 to invest. However, the application is well-designed and allows you to purchase stocks and ETFs with ease.
With Stash, you have three options for an account, Beginner, Growth, and Plus with fees of $1, $3, and $9 per month.⁶ At each level, you'll get more features that may or may not be enticing to you. If you just want a banking and brokerage account with the same features that Robinhood offers, you may stick to the Beginner level.
But even at that level, you get a banking account that provides checking and savings account options with a debit card. Plus, Stash also offers a fully integrated financial management platform.
Pros
Cons

Offers fractional shares investments
Cash-back rewards on stocks from qualified purchases through the bank account
Has investments available based on your values

IRAs are not automatically managed
| 💡 Did Stash pique your interest? Learn more in our comparison of Robinhood vs. Stash here. | |
| --- | --- |
7. Interactive Brokers
Account minimum: Requires a $100 deposit to open an account, but there's no minimum balance.⁸
Stock trading fees: Offers $0 commission trading on stocks and ETFs⁹
Account fees: No maintenance or inactivity fees on individual accounts¹⁰
Best for: Advanced traders
Interactive Brokers takes things to another level for sophistication when compared to some of the other platforms on this list. The company offers every financial product you can think of from stocks and fractional shares to forex, bonds and funds. And they combine access to a broad range of markets with low fees.
Most notably, Interactive Brokers has the top price execution software in the industry. Their 'SmartRouting' program finds the best prices available when you put in an order and will seek to execute it immediately. This can be a very important factor when trading high volumes of shares.
Though Interactive Brokers offers multiple platforms, their desktop trading platform is highly advanced. It's optimal for active or day traders who can utilize the full range of tools available. For this reason, Interactive Brokers may be a platform for those with experience in investing.
Pros
Cons

A wide selection of investments
Has a strong selection of investment research and tools
Order execution is superb

The website and platform may be difficult, especially for beginners.
Their SmartRouting program is not available to Lite clients.
| 💡Check out our review Interactive Brokers here. | |
| --- | --- |
Frequently asked questions
Is Robinhood a rip off?
Absolutely not. There may be other options out there better than Robinhood based on your needs, but the company is not a rip-off. They were the first company to offer trading commission free. And they're also a member of SIPC which protects securities investors up to $500k¹¹.
Also, Robinhood encrypts your passwords and personal information before they store them, and they offer 2-factor authentication when logging into your account. While they offer free trading that has its own set of risks, the company itself is not a ripoff.
Is there a better app than Robinhood?
It completely depends on your investment plans and needs. Robinhood has a lot of tools, but you trade for free with little to no professional advice.
If you have money and want to pay for professional investment advice, you may want to go with someone like Fidelity, Interactive Brokers, or TD Ameritrade. Or if you want better research tools for investing on your own, E*TRADE might have better tools. Or, if you want an alternative that has a bank account, you'd need to go through Stash.
The most important thing is that you always do research and make investment decisions based on your circumstances.
---
Sources:
All sources checked on 16 November 2021

---
This publication is provided for general information purposes only and is not intended to cover every aspect of the topics with which it deals. It is not intended to amount to advice on which you should rely. You must obtain professional or specialist advice before taking, or refraining from, any action on the basis of the content in this publication. The information in this publication does not constitute legal, tax or other professional advice from TransferWise Limited or its affiliates. Prior results do not guarantee a similar outcome. We make no representations, warranties or guarantees, whether express or implied, that the content in the publication is accurate, complete or up to date.